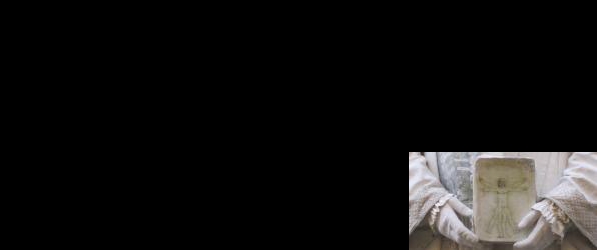 Before I even arrived in Switzerland for the clown workshop, I was on another hunt:  the hunt for Galileo Galilei!  If, indeed, it is "1610 all over again," then I needed to find the source (and also enjoy a delightful vacation in the south of Italy with some old friends). 
My teacher Paolo Palmieri, a Galileo expert, recommended that in addition to the searching for Galileo in Florence at the Museo Galileo is, I should also look for signs of Galileo in the Basilica di Santa Maria Maggiore in Rome. 
I arrived in Milan on Tuesday night, had a risotto, and tried to get some sleep for my long day in search of Galileo.  I woke up early and caught the 7:20 train to Florence from Milan.  The website for the Museo Galileo informed me that it would be an easy walk to the museum from the train station.  I walked, but I didn't find the museum.  I did, however, see…

The Duomo
Ponta Vecchia
A trace of Andromeda...
And another famous Italian scientist…
Leonardo Da Vinci
...IN PERSON!!!

....or at least in 'impersonation.'
It was too fast, but not a wasted trip to Florence.
I got back on the train.  Next stop, Rome!
I arrived in Rome at about 1:00.  The church was supposed to be just a few blocks from the Roma Termini, so I was pretty sure that I'd have enough time to see the Basilica di Santa Maria Maggiore and also have a little pasta for lunch.  I walked to the church, although I wasn't a hundred percent sure that it was the right place.  
I went in, and thought that it might be the right place, since there were a lot of posters that seemed to be insisting that Galileo's ideas about astronomy were not, in fact, in opposition to church doctrine in 1610.  It seemed a little forced, but I also interpreted it as a sign that my hunt was successful so far.  I was, after all, searching for a fresco by Cigoli, a friend of Galileo's, who was the first to depict the moon in painting after observing it through Galileo's telescope.  My professor had warned me that the painting would be very high up, in the left nave, and that it might be difficult to see the details.
I went in.  There was a fresco near the ceiling, showing the Virgin Mary on what might have been the moon, but it was so far away that I couldn't honestly tell whether or not that was the moon in the fresco.  It also seemed to be in need of repair, which I thought was strange since there was supposed to have been a festival in honor of a miraculous snow in AD 358 just a few days earlier.  I took a picture anyway:

You can imagine it...
I left the church feeling a little uneasy.  So many things fit.  Still, Neither was I sure about that moon nor was there any indication that this nave had been dedicated to Pope Paul V, as my professor had informed me it would be.  I looked back at the church.
And realized that I was at the Chiesa di Santa Maria degli Angeli,  NOT the Basilica di Santa Maria Maggiore.  Could there be two churches dedicated to Santa Maria within walking distance of the Roma Termini Stazione?  The answer to this question is, yes.  It's Rome. 
I skipped my pasta, consulted my map, turned down the Via Gioberti, and dashed into the Basilica.  There, indeed, in the left nave of the cathedral, dedicated to Pope Paul V, was a beautiful fresco of the Virgin Mary standing on the moon.  I don't have any pictures because there were no photos allowed in this church.  It still was very far away, but the moon was absolutely luminescent, and indoubtedly the moon.
I made it back to the Termini in time to catch my 3:00 train to Naples, where I found my friend via pure telepathy while looking for a bottle of water – it was HOT that day.  Together, we took yet another train south to meet up with the rest of the gang.  We were welcomed with local vino bianco, polenta picante, a delicious parmagiana, and a good night's sleep.
Originally posted from Switzerland on August 20, 2012 on Vivian's Blog After Andromeda.